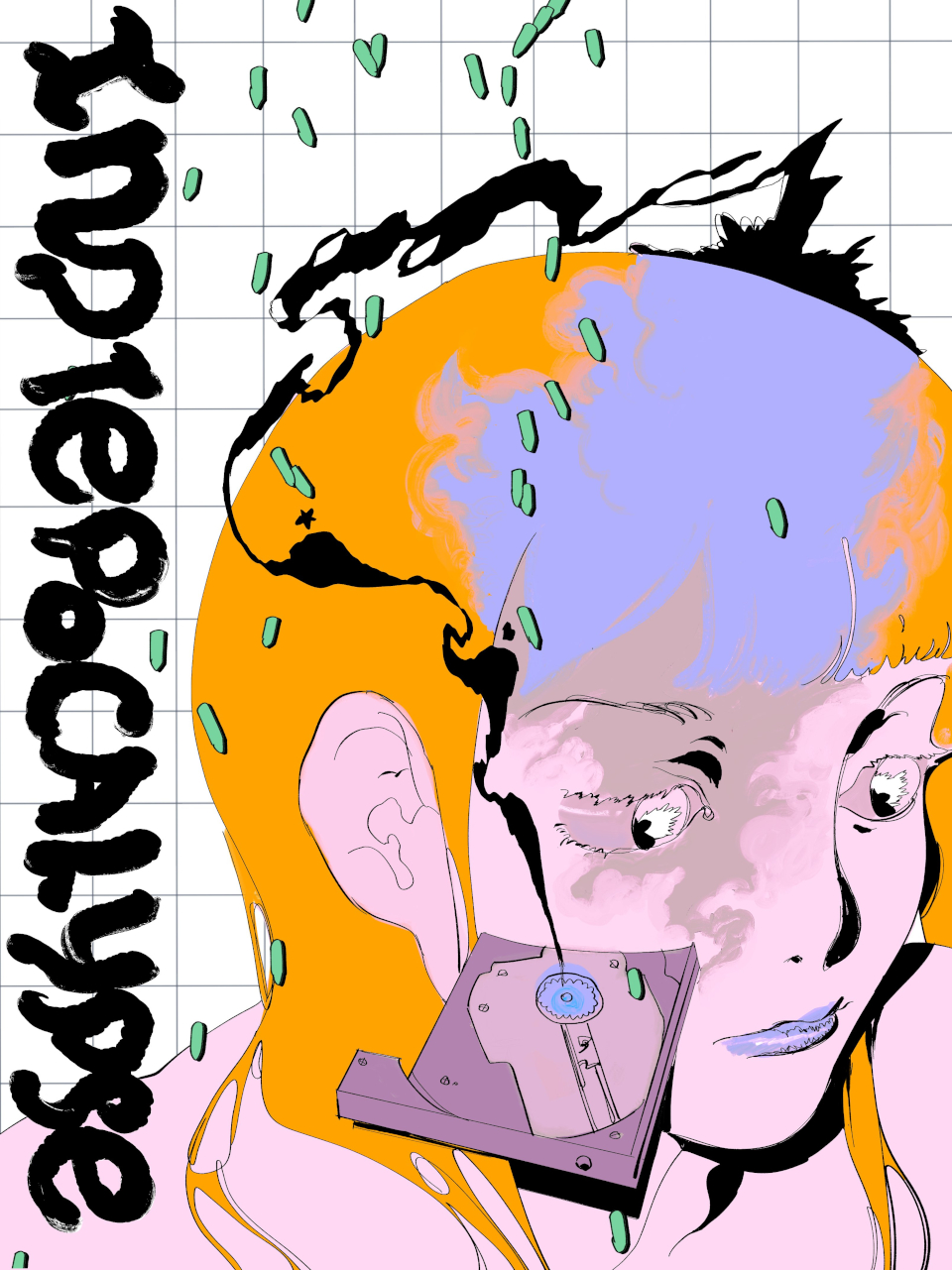 Indiepocalypse #35
A downloadable game for Windows
ISSUE #35
Hello and welcome to Indiepocalypse!
Indiepocalypse is a curated monthly collection looking to highlight the very best of the indie game scene.
Each month features games by 10 different developers, including a newly commissioned game exclusive to the bundle-zine. The games cover a wide variety of styles, genres, and themes as they fight against any definition of "indie game" as a genre.
Also, and this part is very important to me and should truly be taken as given, each contributor is paid and developers are paid royalties on all future sales.
This Month's Games

Mushrooms & Magic 1e (Indiepocalypse Edition) (Physical) by Featherboy Press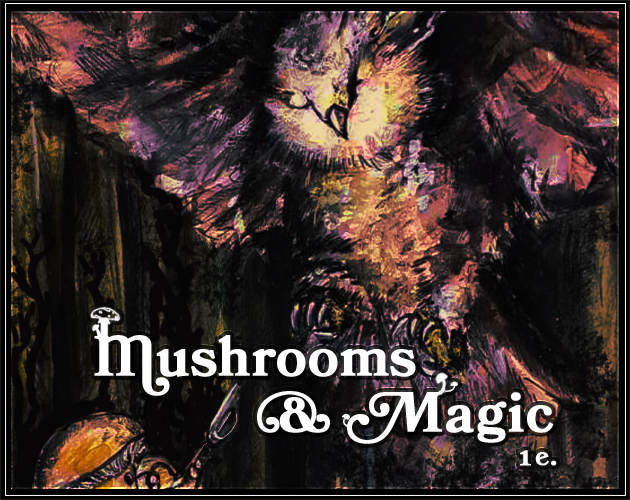 After apocalypse, Mushroomkind awoke, surrounded by strange beasts & remnant technology from humans long passed. But Mushrooms are small, and the world is large & unexplored - will you answer the call?
Mushrooms & Magic runs using a modified Powered by the Apocalypse / Monster of the Week-like system, with mechanics for tool crafting, abilities, and several magic types. The game only requires one die - a d20 - and makes use of just four basic stats. While not rules-light per se, plenty of room is left within the game's structure for players to modify core aspects (and add their own!) as wanted within campaigns, and GM's are encouraged to have fun with the setting above all else. This Indiepocalypse Edition includes an exclusive Clade of Mushrooms to play as & additional NPC art found nowhere else!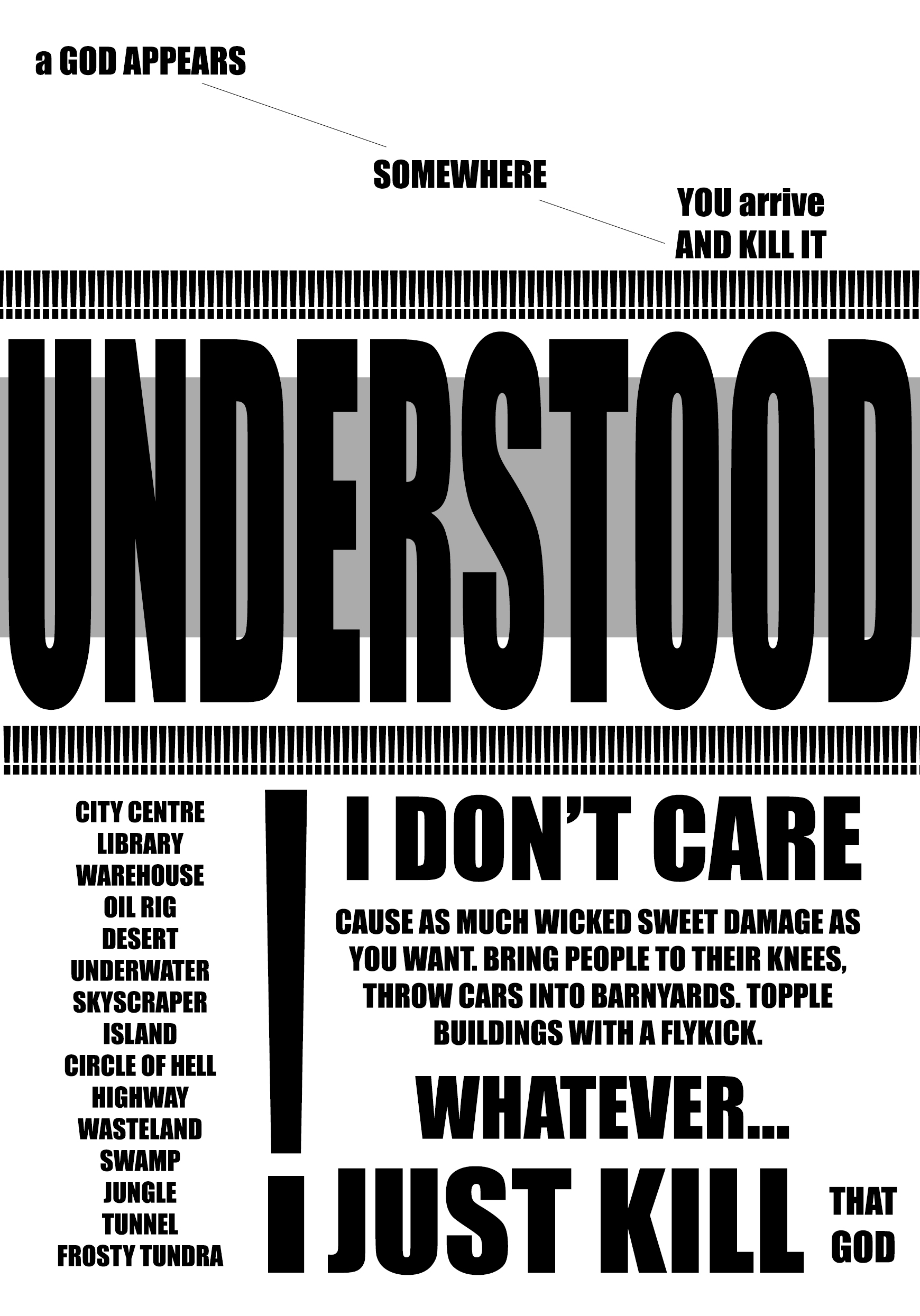 A rules-lite power fantasy ttrpg where Players are overpowered demons that must kill gods~!
Swordfighting for People Who Are Really Bad at Swordfighting (WIN/MAC/Linux) by Cahatstrophe Games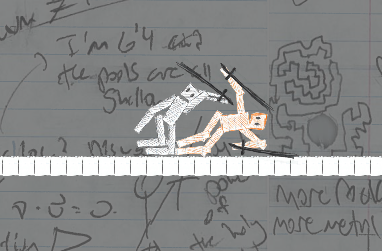 Are you good at swordfighting? Or maybe you're just okay at swordfighting? Perhaps you've just had one lesson once, years ago? If that sounds like you, this game is explicitly not for you. But if you're not just bad at swordfighting, but really bad at swordfighting, this game might be exactly what you need!
This is a physics based 2d swordfighting game for people who spent more time doodling in math class than paying attention. It features many levels, two kinds of sword, and only a teensy tiny small little chance of achieving sentience and trying to murder you!
Cards of the Bog (WIN/MAC/Linux) by Abhi Sundu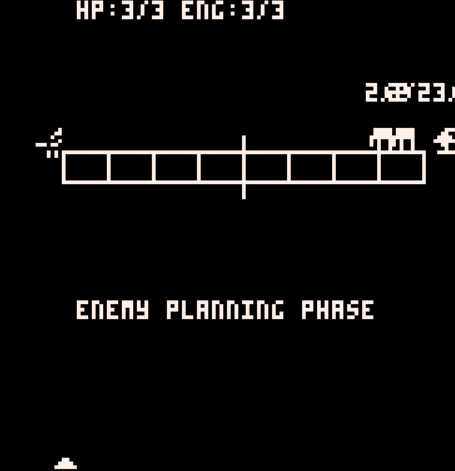 A short, strategic deckbuilder with just a sprinkle of horror. Inspired by Into the Breach and Slay the Spire. Venture into the ancient bog and bring your sibling back. Be careful not to lose yourself on the way . . .
Nim's Sin Removal Service (WIN) by Min Jordan
Nim's Sin Removal service is a strange but cute, spooky RPG experience about the world's most useless occultist, Nim!
Follow Nim as he fails to summon the devil, and becomes haunted by seven doppelgangers representing his sins. Scare the spirits out of hiding, then chase them down and exorcise them from this mortal realm! (Will he be able to exorcise them before Dad gets home?)
Into Ruins is a chaotic roguelike for the PICO-8 fantasy console.
Jump down holes in the ground as you traverse cave formations and crumbling dungeons. Fight monsters or tread carefully to avoid them. Collect orbs and power up magical items you find along your way. With a bit of caution and a bit more luck, you might just make it to the bottom.
THE FOREST OF NOISE (WIN/MAC) by Mared Jurphy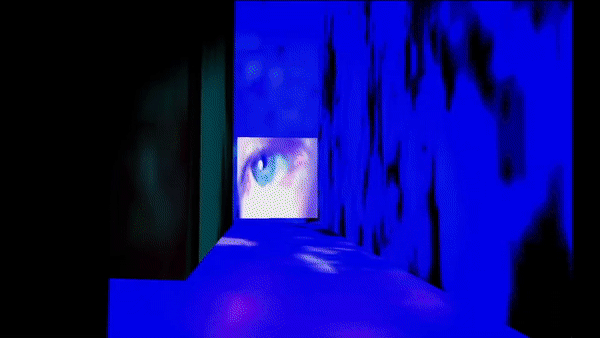 let the deathly n̷̡̧͖̙̞̥̪̦͔͉͖̭͐ǫ̶̜̰̜͆̽i̴̪̓s̸̡̢͚̗̺͇̰̣̰͍͒̀͊̿̀͌͌̽̿̍̑̊͘͝ͅe̸̹̻͎͂́̒̀̎͝ͅ guide you through a shifting forest maze with a text-based tragedy-strength story. •walk•through•the•forest••••closeyourEYESandlisten••••find•every•light••••consider•death•
Children of the Flower (Game Boy/Analogue Pocket) by wombok & jermythemystic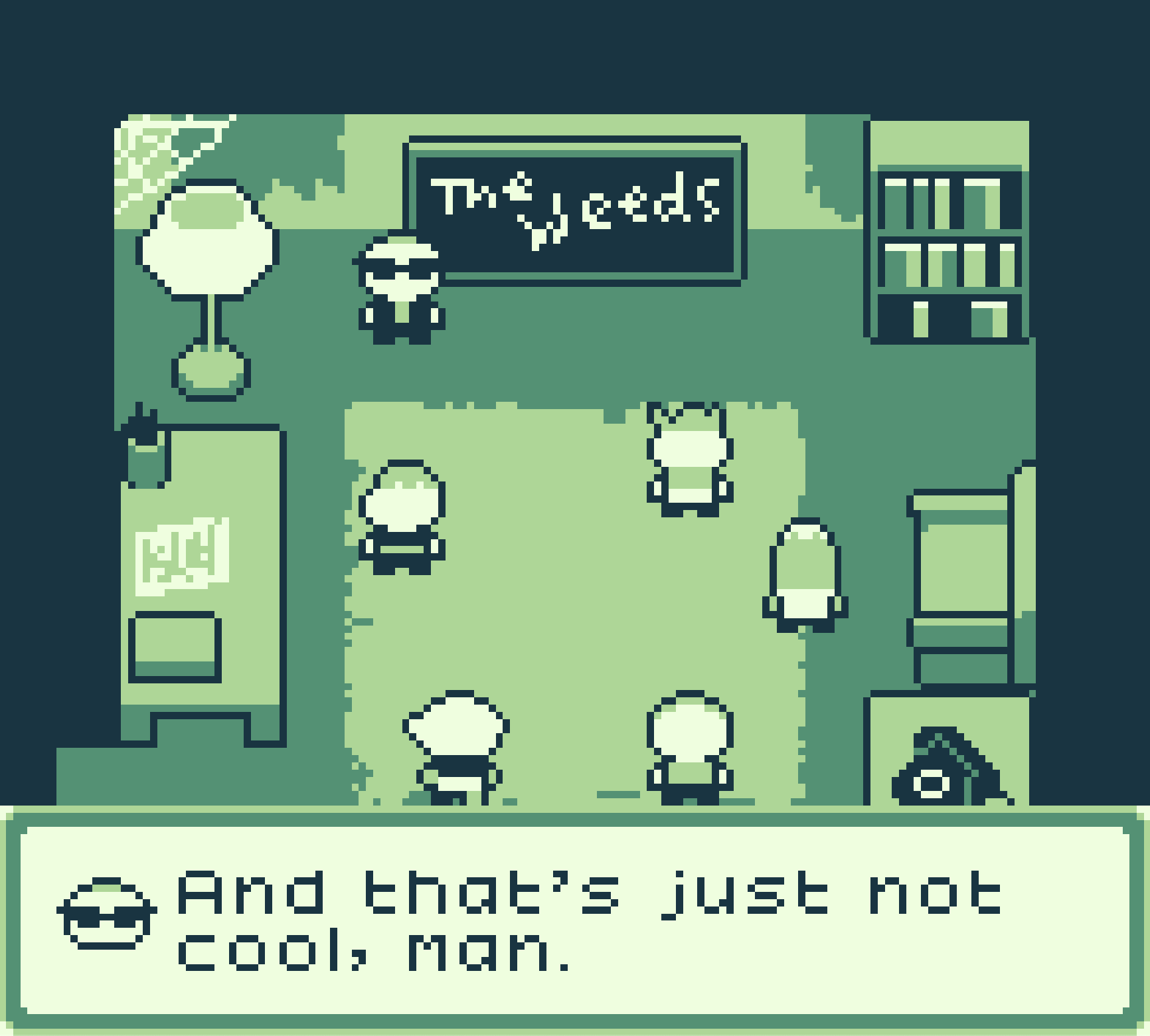 You are Daisy — spunky, ambitious, and totally fed up with your town's local cult and their "deity": a giant sunflower. Under the gaze of your powerful father, a gang of anarchists send you on a secret mission with an unspeakable objective... to exterminate the Godflower.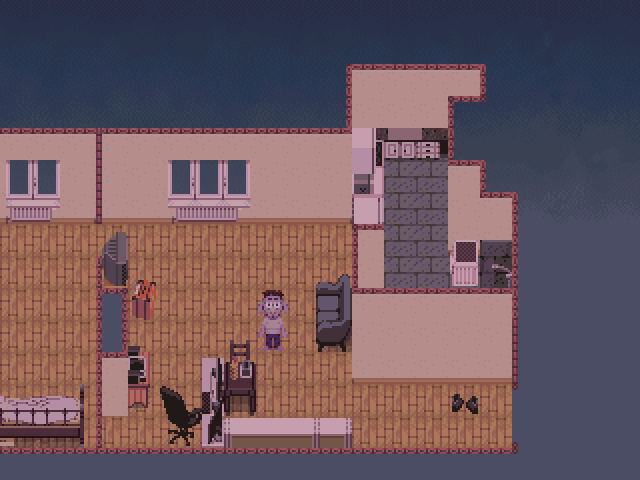 Crumbs is a 20 minute short simulation game of the very specific life of one Quinn, a little sheep stuck in the world's most mundane time loop. Play through an exciting 5 days, and... try not to despair, the sun will rise again.
*NEWLY COMMISSIONED FOR INDIEPOCALYPSE*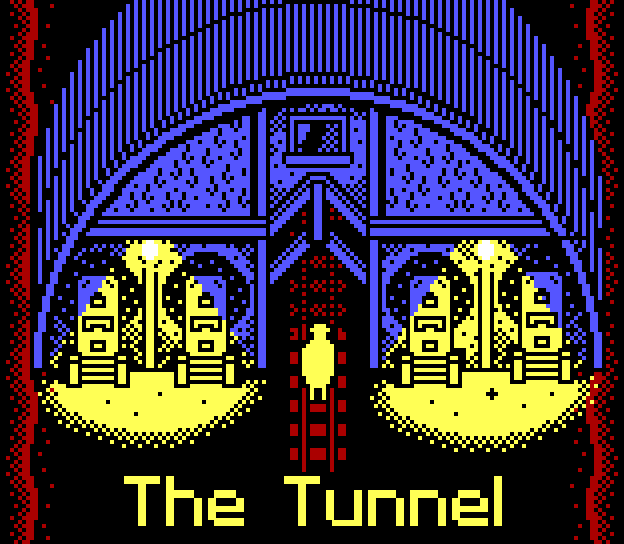 The State sent you to work on The Tunnel, but it's not what you expected. The Machine is not drilling. It's doing something else... something weird. And what do the people living there want with it?
"The Tunnel" is a top-down adventure game, rendered in 16-color pixel art.
*BONUS*Electric Zine Maker (WIN/MAC) by alienmelon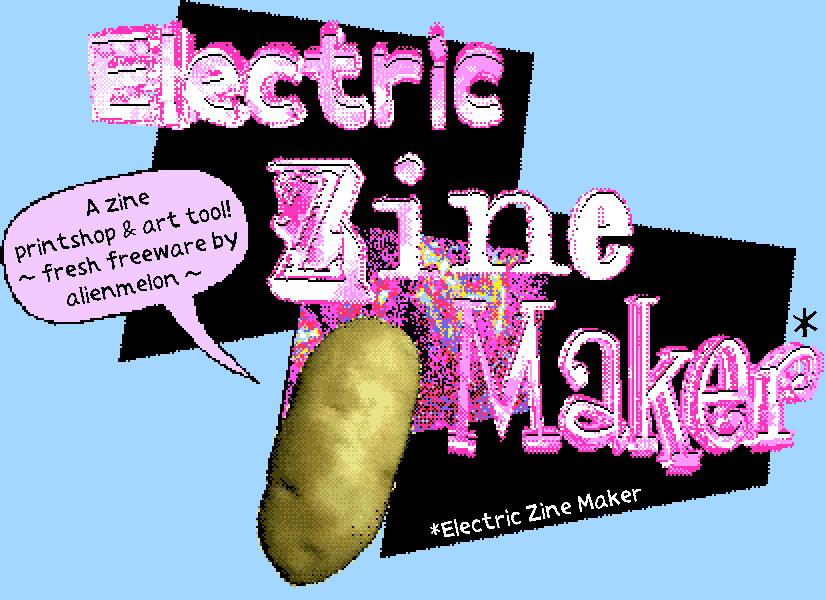 Indiepocalypse zine contents
COMICS
Potato Week by Sam Pender
Interested in the Indiepocalypse being delivered straight to you every month? Sign up for the PATREON.
If you are interested in contributing to Indiepocalypse check out the submission page:
SUBMIT YOUR GAME TO THE INDIEPOCALYPSE
TUNE INTO INDIEPOCALYPSE RADIO, SATURDAYS 2pm EST
FOLLOW INDIEPOCALYPSE ON TWITTER

COMIC ARTISTS AND OTHER ZINE CONTRIBUTORS APPLY HERE
SIGN UP FOR THE NEWSLETTER (and get free copies of the PDFs!)
THE FULL INDIEPOCALYPSE CATALOG
Purchase
In order to download this game you must purchase it at or above the minimum price of $15 USD. You will get access to the following files:
indiepocalypse-35-win.zip
1 GB