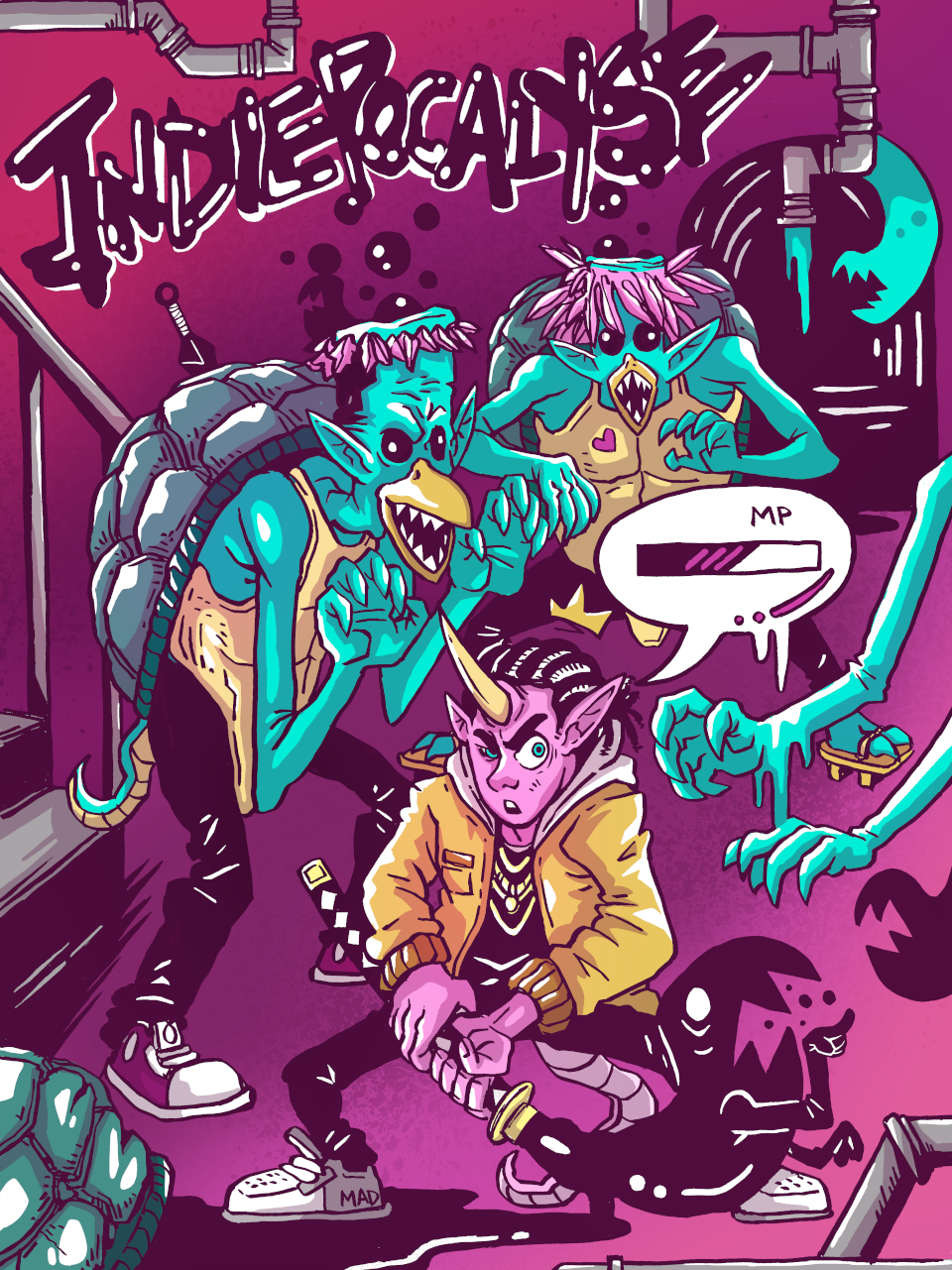 Indiepocalypse #36
A downloadable bundle-zine for Windows
ISSUE #36
Hello and welcome to Indiepocalypse!
Indiepocalypse is a curated monthly collection looking to highlight the very best of the alternative indie game scene.
Each month features games by 10 different developers, including a newly commissioned game exclusive to the bundle-zine. The games cover a wide variety of styles, genres, and themes as they fight against any definition of "indie game" as a genre.
Also, and this part is very important to me and should truly be taken as given, each contributor is paid and developers are paid royalties on all future sales.
This Month's Games
Explore your family's estate and interact with the environment to find clues that help you remember the events that took place earlier that evening. Discover multiple endings to this tragic story.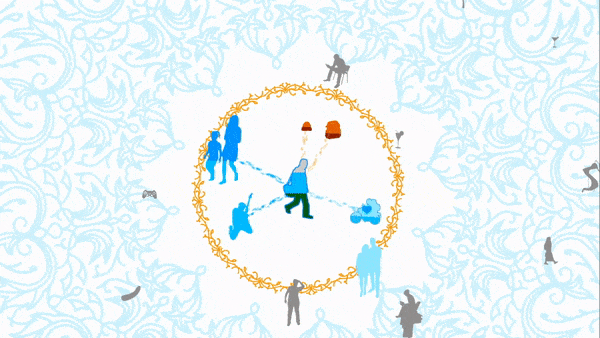 Mon Samsara is a transformative game exploring our life habits. By playing Mon Samsara, you get to gently orient the development of a human being and choose how to fill his or her life with objects and people to make it all worthwhile. These bonds impact when and how it all ends. But what is the meaning of it all? Only you can know the answer.
A play session lasts approximately 12 minutes and players are encouraged to replay the game to deepen their understanding of the game's underlying systems, values and their perspective on them. The evocative nature of its graphics and music and its lack of a clear goal stimulate the player to build their own emergent narrative.
Spindlewheel Microgames (Physical) by Sasha Reneau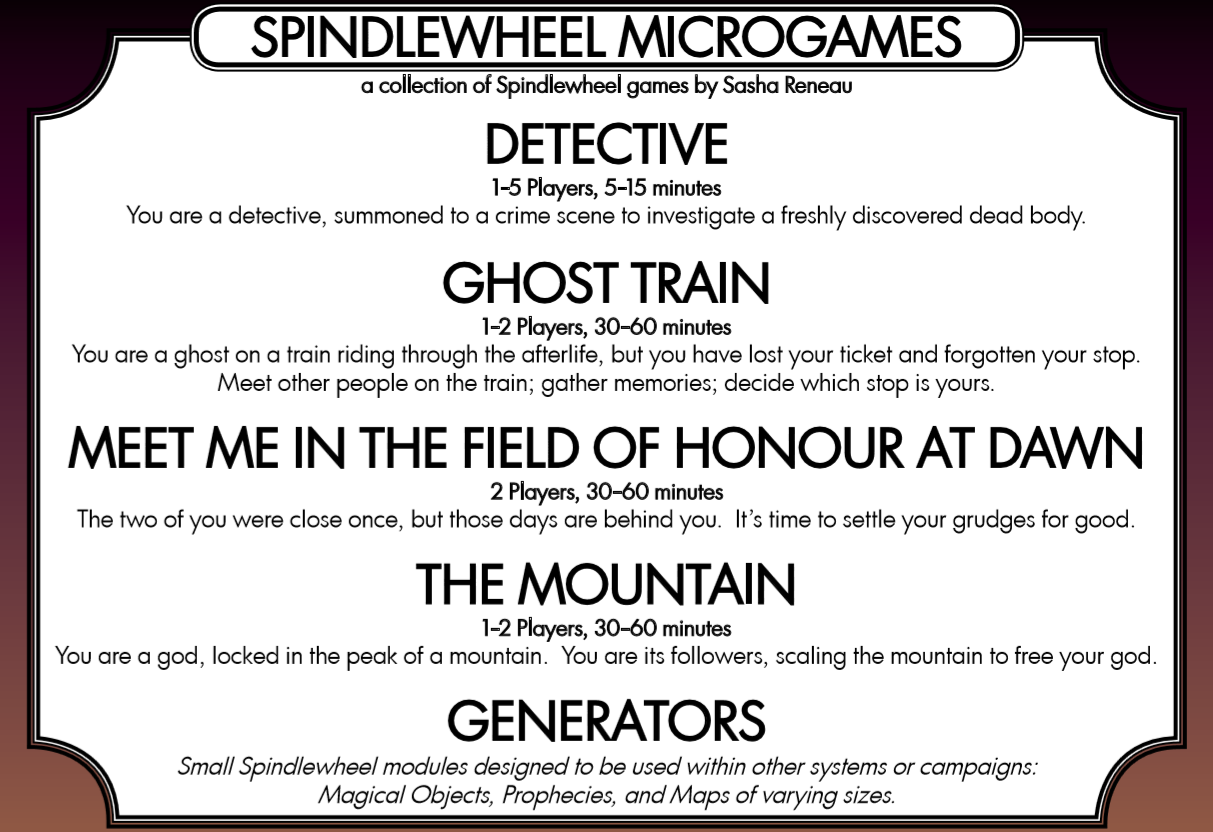 Spindlewheel Microgames features a whodunit, a cthonic god-freeing game, a train chatting sim, a duel to the death, and a mapmaking game using interpretive cards and procgen mechanics. Both bespoke and fatalistic, incredibly personal and predetermined, Spindlewheel uses a deck that is fantastically exploratory and has a penchant for reading for filth.
It Started With Hairs (WIN/MAC/Linux/Android) by Gary Chadwick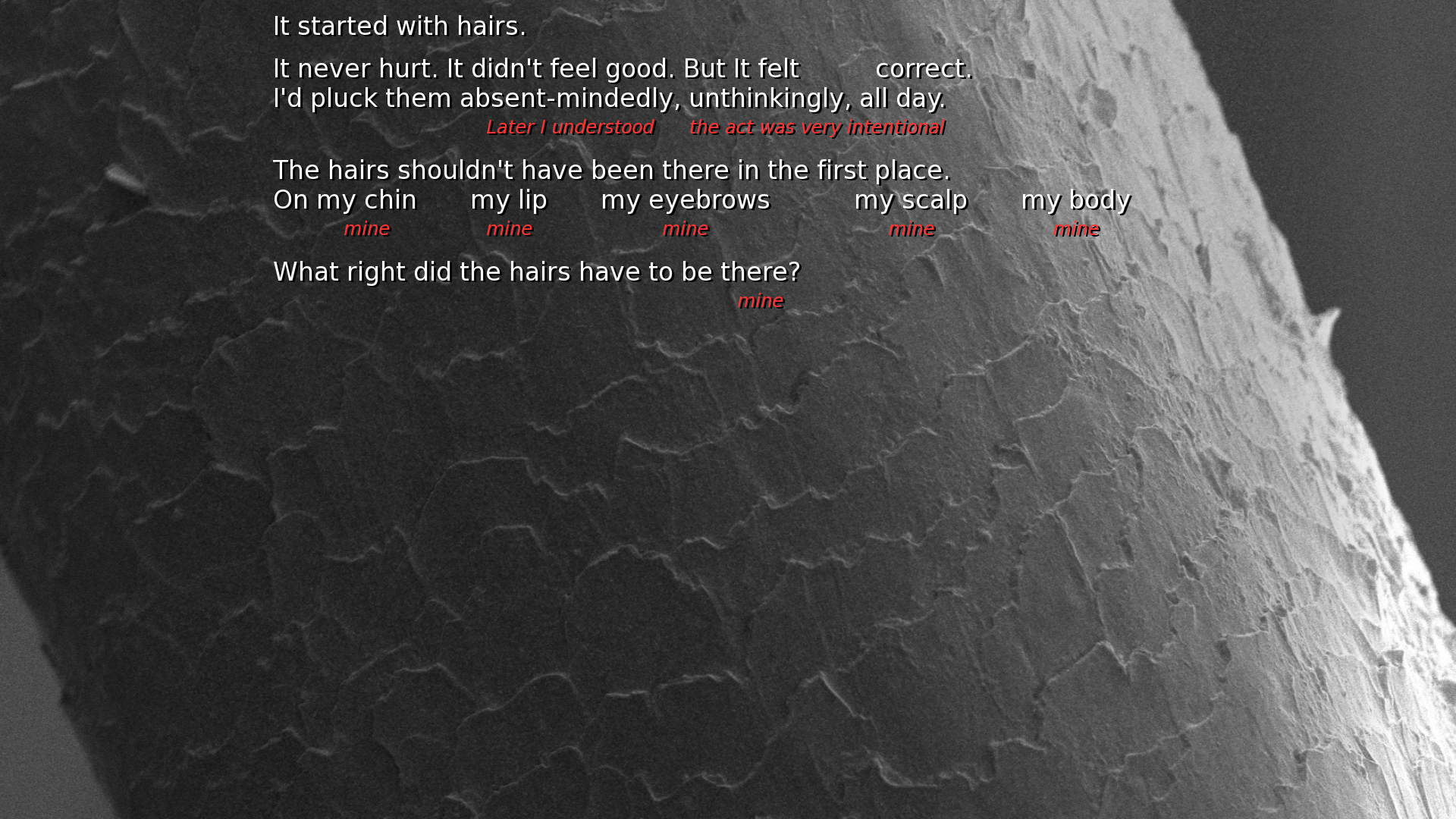 A short, text heavy visual novel about the horror of having a body. Content warning: Contains descriptions of self harm and body horror.
A group of rebel ex-corporate scientists jump onto the spaceship Vantage to investigate the birth of a quasar. But will astrophysics be a simpler matter than solving their interpersonal issues?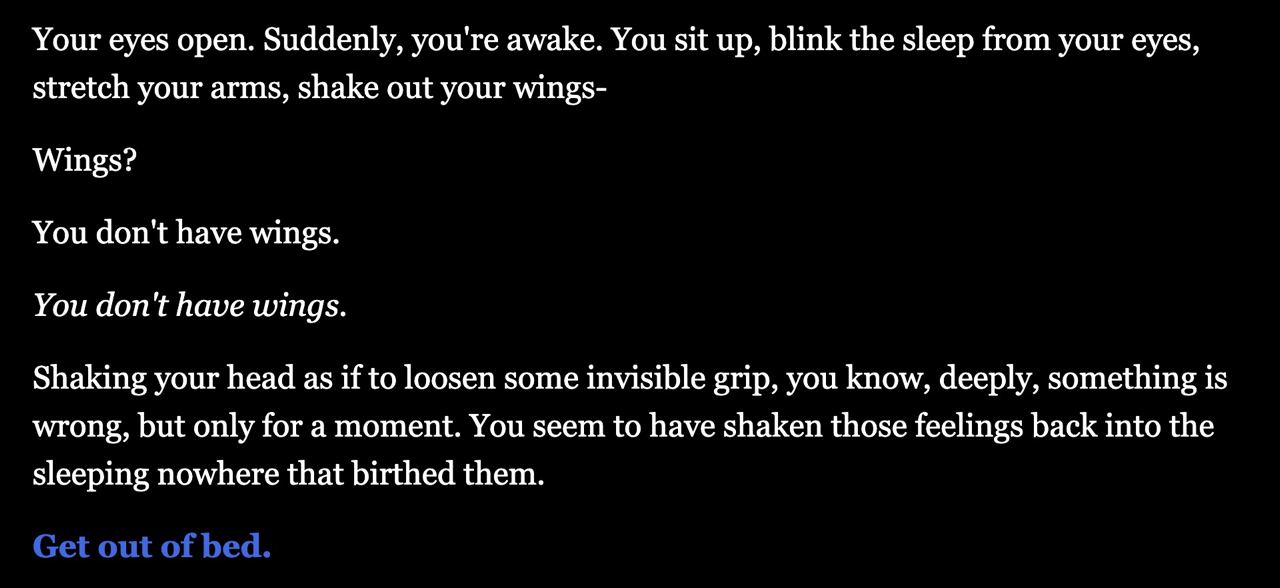 Ramiel is a short text-based game about realizing that thing you have been holding back is real, important, and vivid. It is a game about wings, bodies, and hope. More than anything, it is a true story, one that could be your true story.
One day we will all find our wings, little angel.
Labor rights funeral in Ukraine (WIN/MAC) by Valeriy Petrov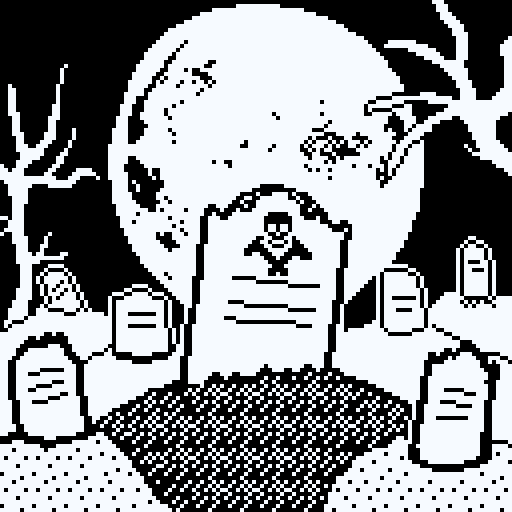 The plot of this game is a work of fiction. But the attack on the labor rights of Ukrainians and the draft of the new anti-labor law do exist, unfortunately. Explore what it means to be buried alive.
BRAINSTORMED 2: DEATH IS NOT THE END or, HYPERPHANTASIA (WIN) by MDEV0
Abstract religious melodrama with light first-person platforming. Relive the past. Death is not the end. Fly through dream worlds of sublime beauty. Scour the true names of God, and find out: Why?

Mare Memoria (WIN/Browser) by Lassiter Waith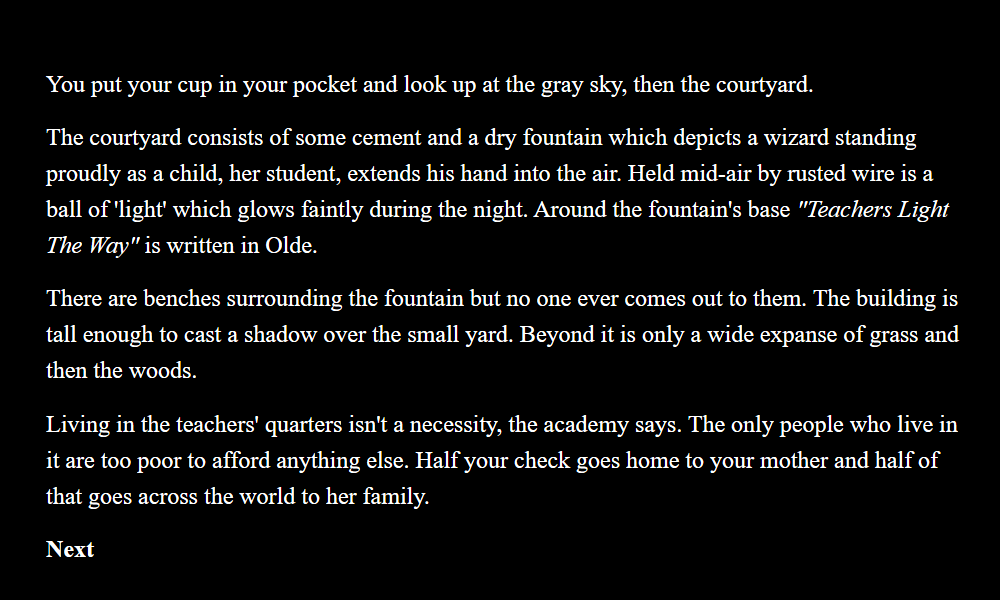 Mare Memoria follows the day-to-day life of a teacher in a fictional world. It looks at the theme of ritual in the everyday.
*NEWLY COMMISSIONED FOR INDIEPOCALYPSE*
businessmen (WIN/MAC/Linux) by mut moochi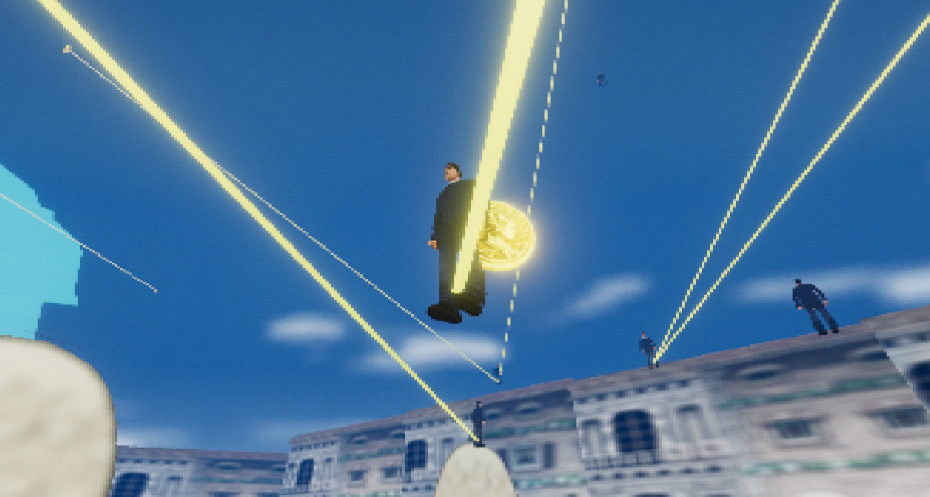 a group of businessman just arrived in delfino square, and they want to make sure they own all the coins around here.
traditional laws of physics don't apply for business.
*BONUS*Electric Zine Maker (WIN/MAC) by alienmelon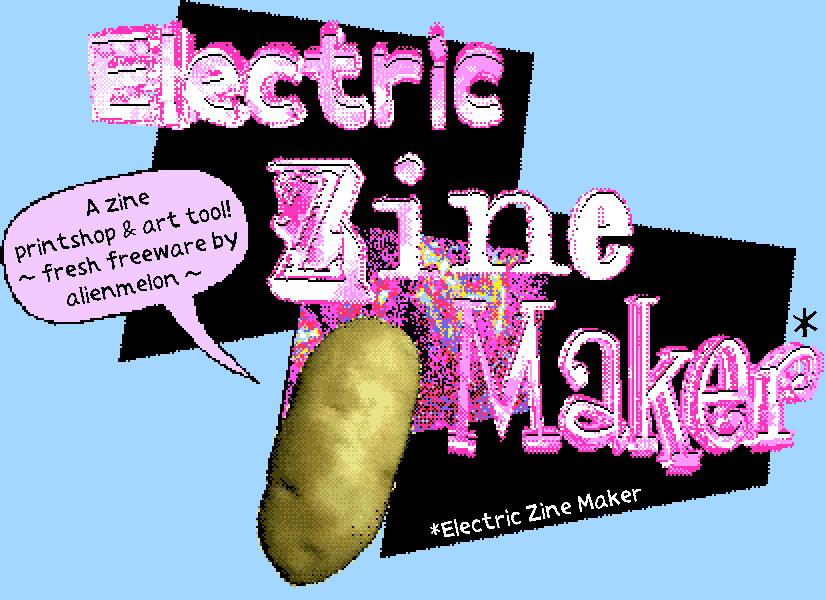 Indiepocalypse zine contents
COMICS
It's not even that lifelike by Sam Pender
@Barbara_degraaf's Top 10 Indiepocalypse Entries
Interested in the Indiepocalypse being delivered straight to you every month? Sign up for the PATREON.
If you are interested in contributing to Indiepocalypse check out the submission page:
SUBMIT YOUR GAME TO THE INDIEPOCALYPSE
TUNE INTO INDIEPOCALYPSE RADIO, SATURDAYS 2pm EST
FOLLOW INDIEPOCALYPSE ON TWITTER

COMIC ARTISTS AND OTHER ZINE CONTRIBUTORS APPLY HERE
SIGN UP FOR THE NEWSLETTER (and get free copies of the PDFs!)
THE FULL INDIEPOCALYPSE CATALOG
Purchase
In order to download this bundle-zine you must purchase it at or above the minimum price of $15 USD. You will get access to the following files:
indiepocalypse-36-win.zip
1 GB
Exclusive content
Support this bundle-zine at or above a special price point to receive something exclusive.
Physical Copy of Indiepocalypse (US)
A copy of this issue of Indiepocalypse on a USB stick inside of a custom cassette case. Comes with a cover art postcard and a code for a digital copy of this issue. United States residents only!
Physical Copy of Indiepocalypse (Non-US)
A copy of this issue of Indiepocalypse on a USB stick inside of a custom cassette case. Comes with a cover art postcard and a code for a digital copy of this issue. Non-United States residents only!
Community Copies
5 free copies of past issues become available when a new issue launches! Get 'em quick!
Comments
Log in with itch.io to leave a comment.
Another great issue! Thank you for including my game in it :)